How ISCAS works
The Independent Sector Complaints Adjudication Service (ISCAS) is the recognised complaints management framework in the independent healthcare sector. ISCAS is a voluntary subscription scheme that represents the vast majority of all independent healthcare providers across the UK. The ISCAS Complaints Code of Practice (the Code) sets out the standards that ISCAS subscribers agree to meet when handling complaints about their services.
 The Code is a three stage process which reflects the complexity of independent healthcare. The focus of the Code is on local resolution wherever possible.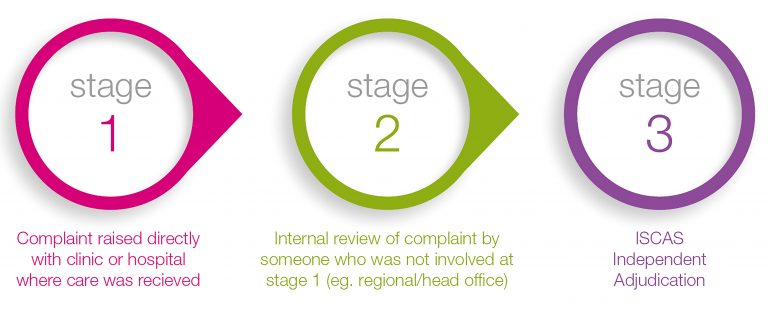 Complainants should always contact the Hospital Manager of the hospital/clinic that the complaint is about in the first instance and should request a copy of the local complaints policy, where not already provided. Stage 3 adjudication provides an independent review process for complaints that cannot be resolved within the organisation.
Complainants cannot access Stage 3 unless the organisation is an ISCAS subscriber. ISCAS signposts complainants back to the subscribing independent healthcare provider where stages 1 and 2 have not been completed.  For more information go to Complaints Process.